As photographers, we are creative people with creativity transcending far beyond our cameras. Now, before I go diving into this further, let me say this: for years you couldn't get me to let go of my Apple MacBook Pro. For me, the allure of MacBooks went spinning downward in 2012, right when Microsoft was picking up its game.
Once 2014 rolled around, it was an okay year with nothing exciting from Apple (but still having overheating problems and issues with video). When 2015 came about, everything was just vanilla with my new MacBook Pro. In other words, I was bored.
During this time, I picked up the new Microsoft Surface Book, and man was I immediately impressed. I mean, this thing was stinking cool!
Now, mind you, I had the Surface Pro 2, then the Surface Pro 3. These were great (especially the Pro 3).
However, I must say, the Surface Book really raised the bar, and really rocked my loyalty to the Apple MacBook Pro.
Then Microsoft released an updated Surface Book in 2016, not to mention the Surface Dial and Surface Studio.
WOW… this is what I call a leap forward in innovation!
I picked up a Dial for my Surface Book (I ended up updating to the latest Surface Book with the Intel Core i7 and 16GB RAM at the same time), and I have to say the Dial was mind-blowingly cool.
I was hooked, and eagerly waiting to see what further 'goodies' the mad scientists at Microsoft would come up with.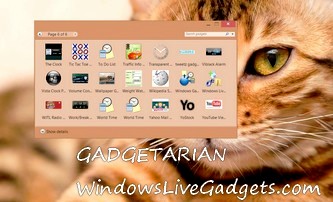 » Enable Desktop Gadgets on Windows 10
Related posts: