While we are continuing to support progress in these areas, our work in China is evolving along with China's new priorities. For example, China has a great opportunity to be a global leader in health innovation.
No one exemplifies this better than Professor Tu Youyou. As I'm sure most of you know, Professor Tu is a Beida graduate and the first woman in China to win a Nobel Prize.
Professor Tu was recognized for her discovery of artemisinin, a powerful medicine used to treat malaria. This was one of the most significant breakthroughs in tropical medicine in the 20th century and it has saved millions of lives.
With its rich pool of talented scientists and its capacity to develop new drugs and vaccines, China was a clear choice for us to locate a new Global Health Drug Discovery Institute. This institute—a collaboration between our foundation, the Beijing Municipal Government, and Tsinghua University—will help speed the discovery and development of new lifesaving medicines.
I had a chance earlier today to meet with some of the Chinese scientists who are driving cutting edge research. For instance, Dr. He Ruyi is the Chief Scientist at the Center for Drug Evaluation of the Chinese Food and Drug Administration (CFDA). His work—and the reforms being carried out by his agency—will create an environment where innovation can thrive. We are working with the CFDA to bring in more experts like Dr. Ruyi to help improve its regulatory capacity so more Chinese health products can be made accessible to the entire world, including developing countries.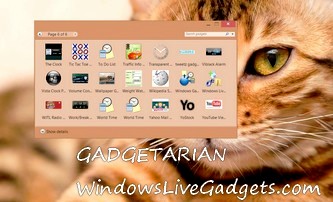 » Enable Desktop Gadgets on Windows 10
Related posts: