Here is excerpts from Bill Gates' interview at the Telegraph (Jan 18, 2013 – read complete). Emphasis in italics or bold added by BillGatesWindows.com
"I'm certainly well taken care of in terms of food and clothes. Money has no utility to me beyond a certain point. Its utility is entirely in building an organisation and getting the resources out to the poorest in the world.
"My wife and I had a long dialogue about how we were going to take the wealth that we're lucky enough to have and give it back in a way that's most impactful to the world. Both of us worked at Microsoft and saw that if you take innovation and smart people, the ability to measure what's working, that you can pull together some pretty dramatic things. We're focused on the help of the poorest in the world, which really drives you into vaccination. You can actually take a disease and get rid of it altogether, like we are doing with polio.
"Polio's pretty special because once you get an eradication you no longer have to spend money on it; it's just there as a gift for the rest of time.
"I loved my Microsoft: it prepared me for what I'm doing now. In the same way that I got to see the PC and internet revolutions, now I see child death rates coming down. I work very long hours and try to learn as much as I can about these things, but that's because I enjoy it.
"The scale of the (foundation's) wealth compared to government budgets is actually not that large, and compared to the scale of some of these problems. But I do feel lucky that substantial resources are going back to make the world a more habitable place.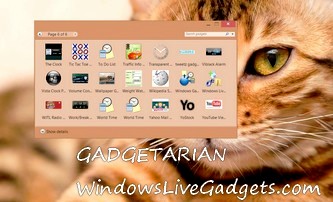 » Enable Desktop Gadgets on Windows 10
Related posts: